There's a place in Colorado where looking down is even more breathtaking than looking up. The park combines God's Splendor and Man's ingenuity with one of the highest suspension bridges in the world nestled between two thousand-foot granite walls of the Royal Gorge. The panoramic views are magnificent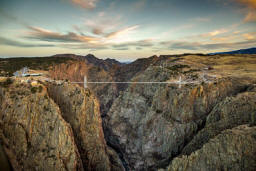 and some of the best in Colorado. The Royal Gorge Bridge & Park is a one-of-a-kind place to build memories that will last a lifetime with friends and family. The deck of the bridge is 956 feet above the rushing Arkansas River below, swaying a little with the breeze, scary for some, thrilling for others!
In addition, the internationally acclaimed thrill ride, the Royal Rush Skycoaster sitting on the edge of the Royal Gorge will give you the scream of a lifetime! Riders are pulled up to a 100-foot tower and the fun is cut loose as they swing out and over the gorge to see the river 1,200 feet below. The cost is additional to admission.
The new park features a brand new visitor center and new attractions to thrill all family members. Please visit our website or our Facebook page for the most current information.